MiniOne Reviews and Testimonials
Don't take it from us – these MiniOne testimonials from customers around the world say it all.
I teach AP Biology, Honors Biology, and Honors Evolutionary Genetics at Athens Academy in Athens GA, and before moving into the high school I ran a research lab and managed undergraduate students in the Genetics department at UGA. When I began teaching I refused to purchase any "kits" or kit specific equipment because, with my research and biotech knowledge, I thought it would be better for the students and my budget to run labs like I had in the research world. However, when I took on Evolutionary Genetics (a research heavy course) I decided to try the MiniOne system with that class; and now I wish I had made the switch earlier! My students LOVED the Taste of Genetics MiniLab, the Foodborne Outbreak MiniLab, and the CSI Forensics MiniLab. Investigations that used to take a week to complete we could now complete in 1-2 class periods, and the students are now preparing all their reagents and pouring their gels rather than me preparing them during a planning period. The results are AMAZING, and my class had a blast with the hands on learning. I even had an issue with my MiniOne thermocycler, and was surprised that when I contacted customer service a person answered immediately (not an automated system) and they made sending the equipment in for repairs easy, as well as making the repairs in a timely manner. Last years students enjoyed class so much that this year my course enrollment has doubled, and I now am adding more MiniOne equipment to my classroom and plan to use the labs in my AP Biology and Honors Biology classes as well. If you are thinking about purchasing a MiniOne system...do it now! You will not regret the purchase, but you will regret not having the system and labs sooner!
Lori Neves
For many years I taught a biotechnology class using Fotodyne gel boxes, power supplies, and an illuminator to view the gels. Now, our school is fortunate to have the MiniOne Electrophoresis Systems for our students. These are the BEST! They make my life easier as a teacher. They cut down on the amount and size of equipment needed, and everything is very user friendly. The lab kits are well organized, which is so helpful. The student engagement is superior as they can see their results in real time. I want to give thanks to the supportive MiniOne team. Every time I have called or sent an email, I receive immediate attention. They are sincere in wanting to help teachers and students experience real and relevant labs.
Malinda Dixon
I supervise multiple undergraduate researchers working on various aspects of gene regulation in Drosophila. We have used MiniOne PCR machines and gel boxes extensively in our research and these items have proven student friendly, dependable, and robust. Students especially appreciate the GreenGel cups, although we also prepare our own gels. We've observed excellent results with tricky, nested PCR reactions yielding multiple amplicons containing transposable elements and their flanking DNA from genomic DNA fragments. We are quite happy with your products. Your staff has always been friendly and helpful whenever we have questions.
David Marcey
I teach biotech and AP bio in Wellesley MA and have used MANY "kit" labs over the years. I have to say that your Foodborne Outbreak MiniLab was AMAZING! I loved the PowerPoint as a way to walk the students through each stage. I also loved the thoughtful nuances of the lab. Thank you for your work. This was a really successful lab and I am looking forward to using more over the years to come.
Julie Boehm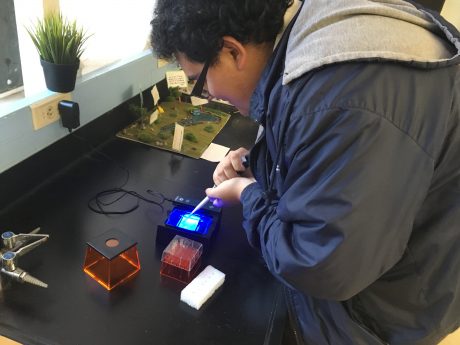 My AP Biology class at Gompers Preparatory Academy just completed the PCR validation lab. My school received a grant and we purchased the MiniOne PCR and Electrophoresis classroom package this year. It comes with a validation lab and all the reagents you need to complete it. I set up the thermocyclers the day before and downloaded the app to make sure I knew how to use it. The students followed the directions for how mix the reagents on the first day and we ran a gel electrophoresis for confirmation the next day. We got great results and all the equipment was simple to use. I love bringing in other teachers to show them the equipment. They are all blown away at the size, simplicity, and quality of all the equipment. Thank you MiniOne!
Jessica Ullyot
Thanks to a grant I was able to purchase a classroom set of MiniOne Electrophoresis systems, a MiniOne PCR system and several Minilabs for our school. It was fabulous. Each Minilab was designed to engage students and spark their curiosity. The materials provided in the Minilab were designed with the classroom in mind. It made it especially easy to set up individual work stations where students would have everything they needed in one place. The directions were clear, simple and easy for students to follow. There was no need to re-write or amend directions. This equipment was used successfully in all levels of biology (biology, honors biology and AP biology). 100% of my students were able to follow the directions and produce a DNA profile. Students were thrilled to photograph their results and were quick to share their experience on social media. Kimberly Slaughter (Woodstock High School – Woodstock, IL)
Kimberly Slaughter
The DNA and the labs worked wonderfully!  They were easy to use and the kids got GREAT results with them.  I am very satisfied with your products and am looking forward to using them for years to come.
Melinda Evans
I can honestly say that MiniOne is the BEST technology development that I have come across in my 17 years of teaching! I can quickly and expertly teach the concept of electrophoresis to my students. Prior to the MiniOne, electrophoresis labs spanned over several class periods and involved students reporting back to the classroom outside of the class period to stain and de-stain their gels. The MiniOne equipment and associated labs allow me to perform and expose my students to the many different applications of this product (with my personal favorite being the Foodborne Outbreak lab). Aside from my high praises, I can't tell you how much my students enjoyed the labs and several of my graduating Seniors have even reported back to me how much these applications have helped them in their college level courses.
Lauri Piercy
Last year was our first year using the MiniOne System, and we had a great experience. I teach in a small, rural school district in northern Wisconsin (approximately K-12 enrollment of 380 students). Approximately 75% of our students are Native American. We are fortunate to have a healthy science program and the support of our administration and community. I used the MiniOnes twice last year in my chemistry program (Foodborne Outbreak and Forensics). It definitely enhanced the curriculum, and the students loved it. I will encourage our life science teacher to use the system this year in his biology classes.
Rick Erickson
I used the MiniOne System this past year and it was great! So easy to use and to analyze. Very little chance of anything going wrong. It is a wonderful change from the more traditional gels and power supplies with all of the attendant hassles.
Michael Thomson
MiniOne has made a huge impact in my science classroom because it addresses some of the vital problems I have with doing labs. The equipment they provide is very easy to use and more user friendly than any of the other brands we have bought. Higher priced lab equipment now sit on a shelf because we only use MiniOne for our labs. The products allow me to do labs in one day instead of running labs over multiple days like I used to do. The results are always better than what I get from other brands equipment. The gel electrophoresis chambers also have an awesome window on top that my students can take pictures from and watch the process as it occurs. Less of the consumables are needed to run gel electrophoresis labs so the cost per lab is significantly reduced. Lab set up and clean-up is much easier with their system. MiniOne has saved me time, money, and frustration because their equipment is so easy to use and students can follow along with what they are required to do.
Gil Gomez
I am so excited about MiniOne! I was able to put the prep in the hands of the students. I was able to run a lab and view results in one class period (in the past it's taken at least 2 days, sometimes 3 with prep). I used a fraction of the required DNA for my protocol which stretches my supply budget and allows me to fit in more hands on opportunities for my students.
Kerin Coffey
MiniOne is borderline life changing when it comes to electrophoresis. The time required for setting the lab up is significantly less than when using other kits and electrophoresis chambers. I can run a lab from start to finish in the one hour period and the students can actively watch the DNA run. In addition to the process being much faster, results are much easier to see, and with significantly less DNA and buffer used for the chamber. Electrophoresis usually requires multiple gallons of distilled water because of the amount of buffer needed for the chamber, but with the MiniOne chambers I needed less than one gallon of water. My high school seniors who have run many gels over the course of the last four years were stunned at the ease, how little DNA was needed to run, and the fact that they really could watch the bands separate in real time. They loved that there was no guessing that the gel had run long enough, or that the voltage was set right because they could see the results right in front of their faces.
Jillian Cleveland
We found the miniOne system at an NSTA Conference, we purchased one and fell in love with it. The following year we bought 10 more units and it has transformed our curriculum. We just used them with a DNA Analysis Lab; to be able to have our students work with a gel electrophoresis unit is such a tremendous experience for them. We've used the miniOne from our General Biology classes up to our AP Biology classes, they have been one of the best investments for our department. On top of being a curriculum changing tool, the company is top notch as they have taken such good care of us. We recently placed an order and needed it quickly, but after an issue with the shipping it looked like there might be a setback. Dani was great, she took care of the shipment and personally made sure we received it on time. Thank you!
Paul Winkeler
We have used the MiniOne PCR system in our Advances in Biotechnology Laboratory course to amplify DNA fragments for cloning and to amplify complete plasmid molecules for site-directed mutagenesis. The little device worked perfectly as a thermocycler for the experiments, but it was ideal for the teaching laboratory. Of all thermocyclers we have used in the past, this one is by far the most adequate. As in any laboratory class, time to carry out the experiments is limited by the programmed periods. The MiniOne PCR system is so fast that this semester we could afford to do many more experiments. The advantages of the device do not stop at that; its other characteristics made it the most convenient we have ever used, and the students appreciated its attributes. First being so small and light made transportation before and during class very easy and took up little space from the normally crowded bench space. Also, we never had such a friendly user interface, it uses a mobile device for programming and controlling, and setting up is intuitive and visual. We took advantage of the stop and continue property, which allowed the students to take samples at different stages and visualize the reaction products as the amplification progressed. In summary, we had a wonderful experience with the MiniOne PCR system in our course this year. It was fun and easy to use, it allowed to use the space and time better than in previous years, and the students could perform a longer and more complete set of experiments. I strongly recommend the MiniOne PCR system for teaching laboratories and also for the research lab.
Marcelo E. Tolmasky, Ph.D
I have been using the DNA fingerprinting lab for 3 years now. It is so easy and quick to set up. The students love taking pictures with their phone to analyze the results. It has made me excited to run the lab and not burdened by the set up or clean up or results! The kits are not that expensive either which makes it an easier purchase for districts. Keep making lab kits. Can't wait to try out the new food borne disease lab!
Lisa Miller
I used to view our gel electrophoresis lab as a long term journey. Many students got lost along the way because the lab took so many steps, different class periods were required and results were unreliable. I just finished our first attempt using the MiniOne system. The results were fantastic and conclusive. Students better understand the process and the results because they were in charge of all of the setup, lab and results. Students of all ability levels were engaged and understood. I am so excited about the setup and results with the MiniOne: the quick student-completed setup, the very few opportunities for error, the quickness of the run, the lack of post-run staining/destaining, the reliable results. I LOVE this system.
Jen Damti
Richard and Pauline have been so wonderful to Kids in Medicine and our students have had great success EVERY time with the system. We recognize how important it is for young learners to apply complex didactic concepts in a real-world context - and it provides an inspired, enduring understanding when they get results that actually work. What an important foundation that allows 'spiraling up' to a more nuanced method and understanding for their later academic careers!
Lael Melchert
Gel electrophoresis is a basic molecular biology method used in several labs of the ABE curriculum. Typical electrophoresis equipment can be bulky and expensive. The MiniOne is a compact and efficient electrophoresis system, providing a superb classroom experience without being complex and cumbersome. For instance, the gel tray reduces the amount of agarose needed to only 10 ml. The electrodes are two metal bars that will not break as easily as the wires in regular electrophoresis boxes. The integrated illumination system in combination with the GelGreen dye eliminates the need for Ethidium Bromide staining and significantly reduces experimental time. Students see the results of the electrophoresis directly on the gel box without the need to remove the gel. Finally, the small footprint of the entire system facilitates transportation and implementation in classrooms with little space for laboratory experiences.
Héctor Ayala-Del-Río
The DNA fingerprinting lab worked very well. The electrophoresis unit is awesome. I fell in love with the mini compact design. I have been running gels for over 5 years and I was never able to finish the lab in one period. The compact design of the unit allowed me to run the gel in 20 minutes and my students were able to view the bands during their class period. Also the quality of the DNA bands was great.
Dr. Vyjayanti Joshi
I have been doing biotechnology labs for 24 years in my classroom and I am very impressed with the potential I see with the MiniOne. These electrophoresis units will free up class time by allowing us to pour the gels hot, run them rapidly and eliminate the staining and destaining process. As such, students will have the time to make their own gels and we will have time within our class period to begin analyzing results. I also believe the students will have a better understanding of the process because they will be able to watch the DNA separate in real time. As a teacher, I am also thrilled that the entire process is now "green"!
Winnie Litten
I've been super impressed with all of the Embi Tec equipment we use for our outreach program for their robust design, efficiency of time and supplies and the companies amazing customer service. Teachers borrow one time in our kits and they want access to them all the time, so they write small grants or invite their administrators into their classrooms to see the learning and opportunities their students are getting. MiniOnes are a game-changer. Teachers will be able to run a intensive lab within a regular 50 minute class period. Students get the FULL experience from loading to image to analysis right at their desk. MiniOne allows for real complex, exciting hands-on science, less and safer teacher prep (no more pre and post staining after school), more cost savings (smaller gels, less TAE). This is what science education is all about!
Adrienne Houck
Recently I had the pleasure of attending a demonstration of the MiniOne gel electrophoresis unit. Because the unit incorporates the power supply, transilluminator, and gel box, students are able to view band migration through the gel in real time. This allows immediate band analysis and discussion by the students - a huge plus. The use of GelGreen stain makes it safer and less time demanding for both students and teachers. The compact size allows the unit to be quickly set up and easily stored. The MiniOne is an excellent alternative for educators who are looking to purchase their own equipment.
Carol Fujita
I just saw a demo of Embi Tec's MiniOne gel electrophoresis system - it is genius. The system is set up so that students can pour, load and run a gel in a single class period. And I could clearly see DNA bands after 15 minutes of runtime - brilliant. No toxic ethidium bromide and finally, no messy methylene blue. This system is fast, easy and reliable. I can't wait to use it next year!
Cheryl Eisen
Every year, I have been reluctant to do a biotech unit with anyone except my highest students (AP and honors) because of the chemicals (ethidium bromide) and the time constraints of a traditional (non-block schedule) science period. I had the pleasure of seeing a demo of the MiniOne system first hand and it has changed my perspective on the possibilities. This is well- thought out and user-friendly, utilizing much safer materials. It is more time-efficient for classroom use. I saw results within 12 minutes and was able to take a picture with my phone. I have already put in my order for a set of MiniOnes and am planning biotech units for all Biology students in my school and hopefully the district as well.
Shannon Klemann
As a high school teacher I think there are a lot of benefits to your system in a classroom situation. With the low voltage and the ability to use the GelGreen I feel you have minimized the safety issues while still providing a real life experience for the students. I also really like the carbon filaments that give your system more durability. In high school, we don't have a large block of time for labs like they do in college. The ability to set up your system quickly with a single plug is very appealing to me. I can set up the lab and just as importantly break it down in a short amount of time. The fact that students can see the results of the electrophoresis in just a few minutes is also ideal for a high school setting. All in all, I think you have a winner with your system. I think that it will have a strong appeal to high school teachers that want to do gel electrophoresis in their class.
Matt McDermit