Getting Started with Your New MiniOne Electrophoresis System
The MiniOne Electrophoresis System is a safe, classroom-friendly, compact system that replaces your traditional electrophoresis running tank, power supply, and UV transilluminator.
See DNA bands in 5 minutes and finish running your gel in 20 minutes!
Complete lab within one 45 minute class period
Low voltage and ultra-safe design disengages power to the buffer tank when magnets on the photo hood are not in contact with the reed switches in carriage unit
MiniOne Gel (Buffer) Tank
Buffer cannot be poured in the base. Buffer must be poured in the gel buffer tank because there are two electrodes that are within the base that may get destroyed. In the buffer tank, there are two little bumps on one side. These are the bumps for the electrical connection. The other side is completely flat. This is an indication on how the buffer tank should be placed into the base. The buffer tank should fit snug into the base – force should not be needed to fit the buffer tank into the base.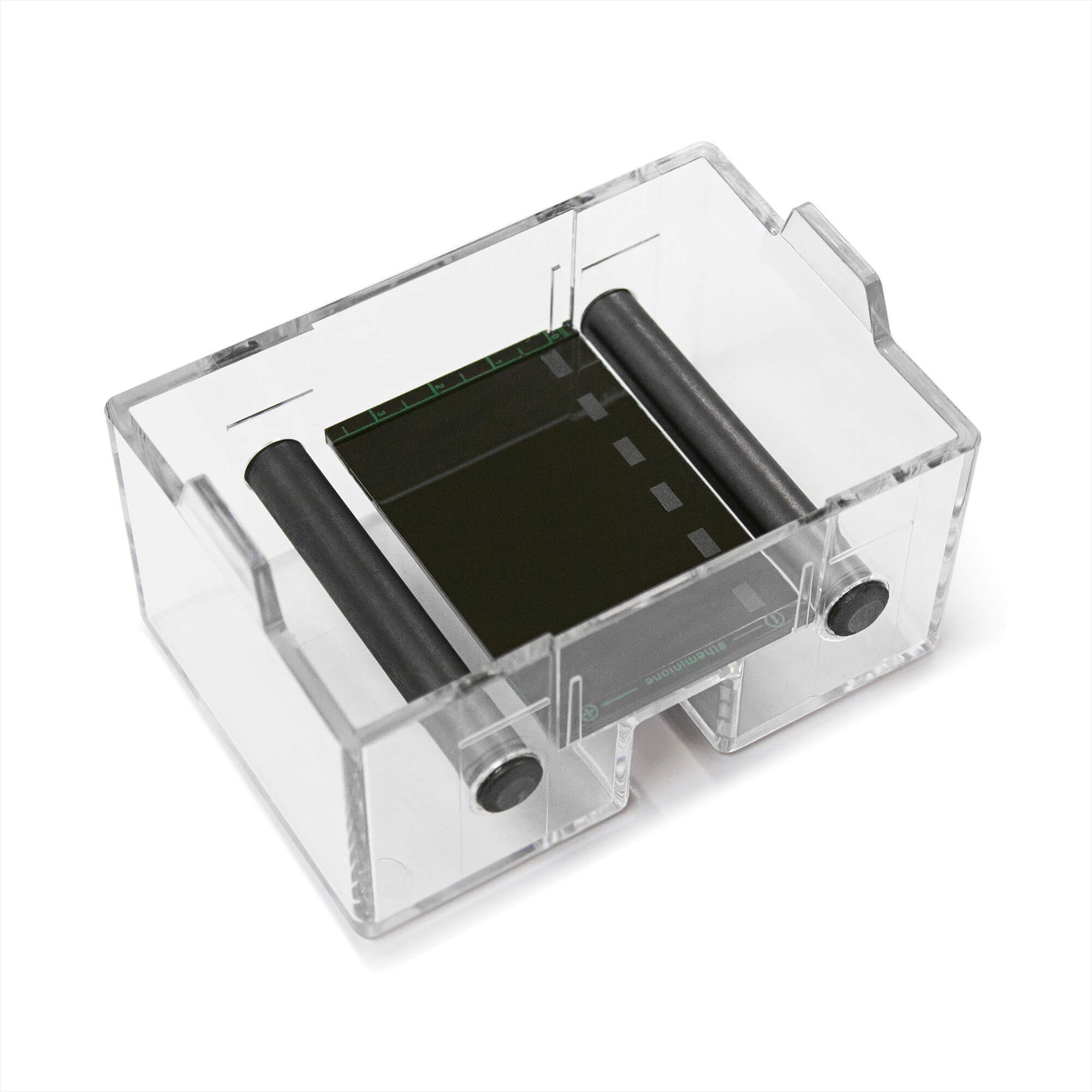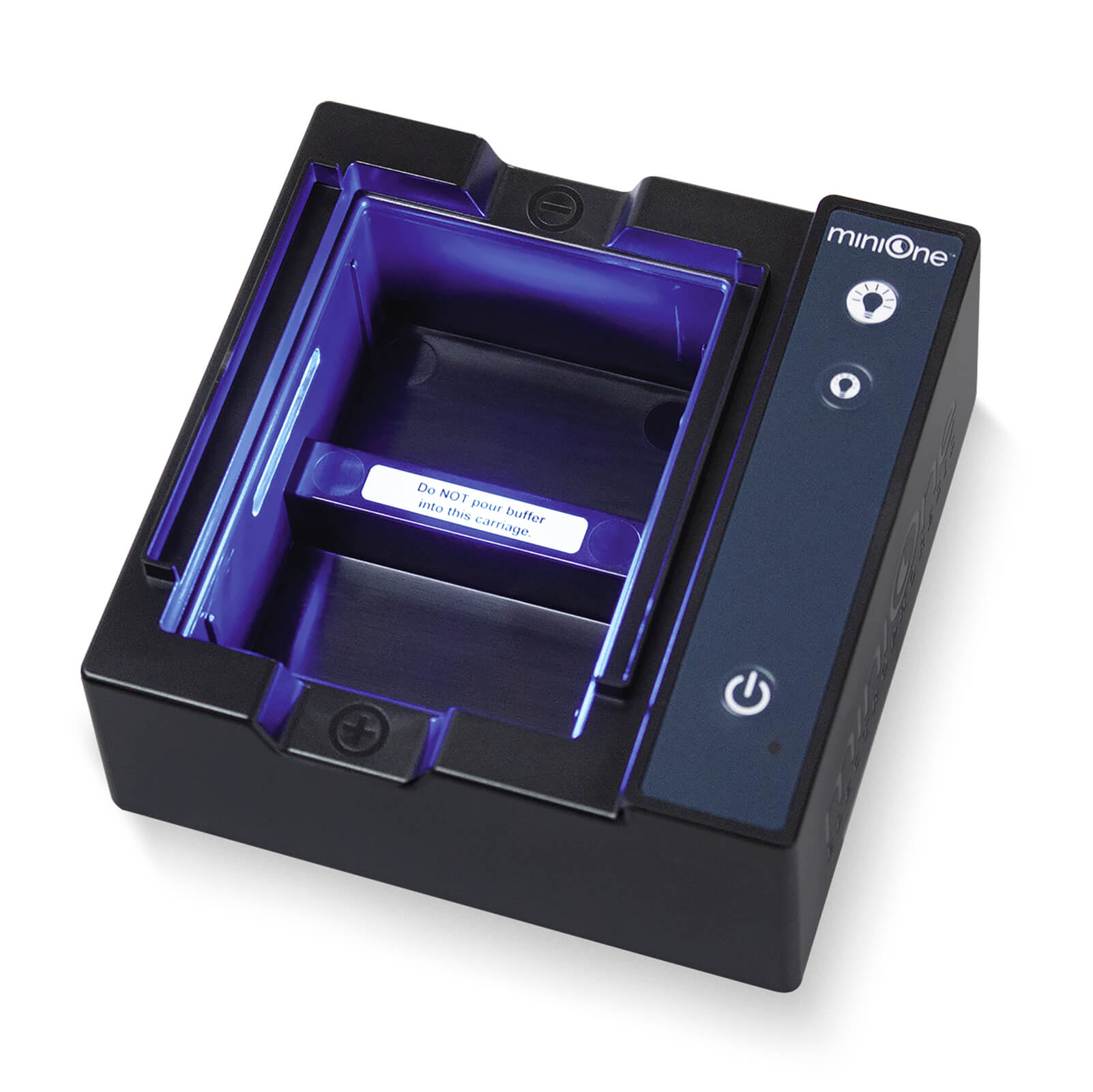 MiniOne Carriage Unit
Inside the buffer tank there are two rods, these are the electrodes. There is a black plastic indicator plate that has markings for the wells. It also has the ruler and positive and negative signs on the opposite side. The positive and negatives should match the positive and negative signs on the buffer tank. There is an indentation where the black plastic indicator plate will fit. After making the gel place the gel in the tray on top of the black plastic indicator plate and pour in the buffer.
MiniOne Photo Hood
This is basically the hood and the top. There is an indentation in the middle of the MiniOne Carriage Unit and the hood should fit well. The hood must be on in order to run the gel box. As soon as the hood is lifted the power will turn off. You will know that it is running when the green light on the MiniOne Carriage Unit is on. After plugging the gel box in, use the power button to turn the gel box on and off.
Note: Students may play with it and take off the hood. Remind them to replace the top and to turn the gel box back on.
Once finish using the gel box, rinse the tank with DI water and place it upside down to dry.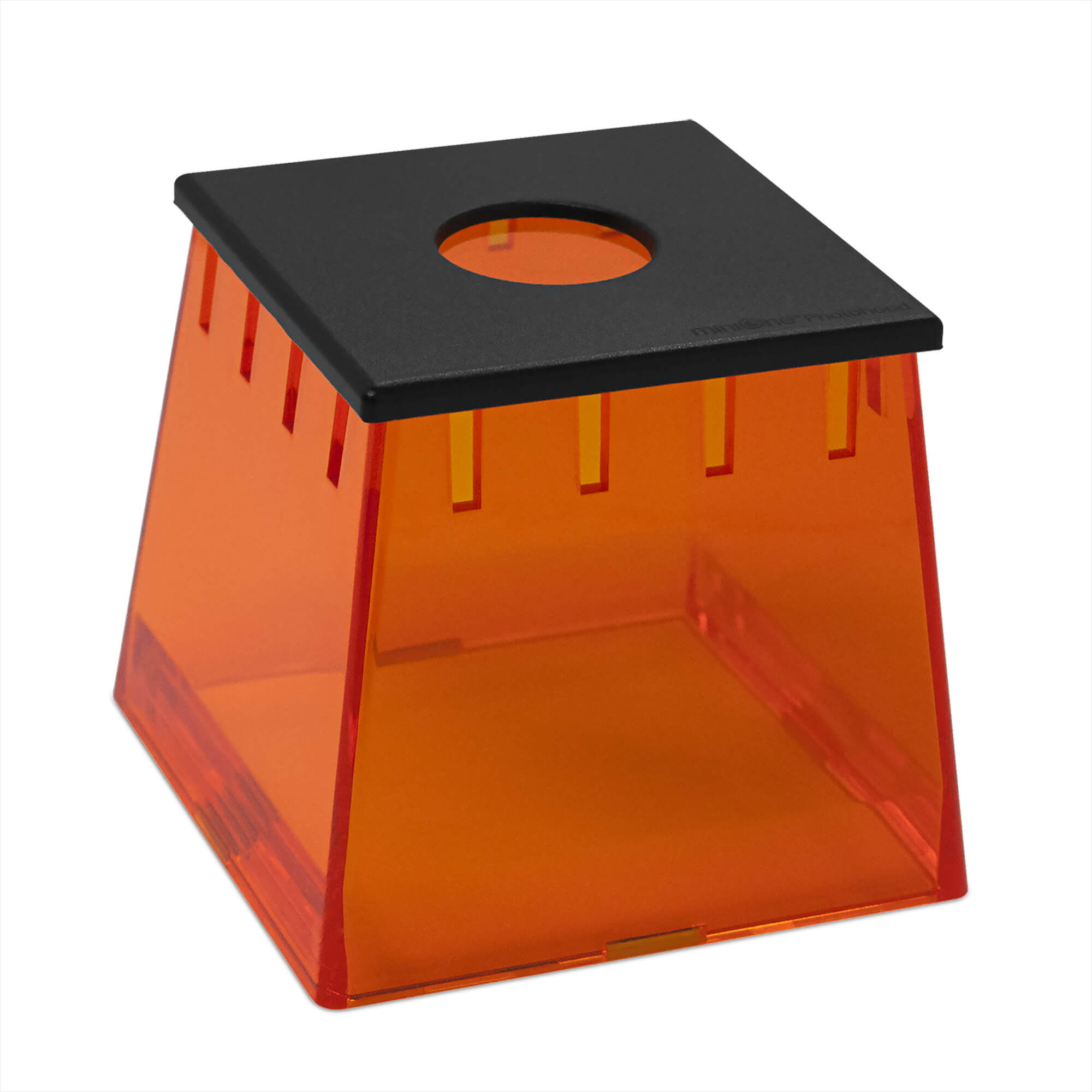 Go Deeper with Your MiniOne
Learn more about your MiniOne Electrophoresis System with these helpful "how to" video guides.
MiniOne MiniLabs
Complete lab kits for hands-on learning
Get MiniOne Updates
Sign up for our email communications to get the latest updates from MiniOne Systems. Be sure to check you inbox, you'll automatically get notified when new blog posts are added to our site.
Your privacy is important and your information will never be shared.